Container Solutions is growing fast. This is good news! But when a company becomes this large—we are now more than 100 people, and adding more every week—we can no longer simply stop by each others' desks for a quick check-in. Especially when those desks are spread out across seven different countries, and three continents!
So how do we check in with each other now? How do we create and maintain the kind of mutual awareness and interconnectedness across the entire organisation that we need to solve the complex problems customers hire us to handle? And how do Container Solutions' leaders maintain visibility and awareness of the company's day-to-day doings, which of course determine our long-term success?
We need a tool to support and nurture these essential interpersonal relationships, no matter how much we continue to grow. We also want to teach all of our people the habit of reflection, which is an essential part of how we work as a learning organisation. After exploring some options, Container Solutions has chosen 15Five as that tool.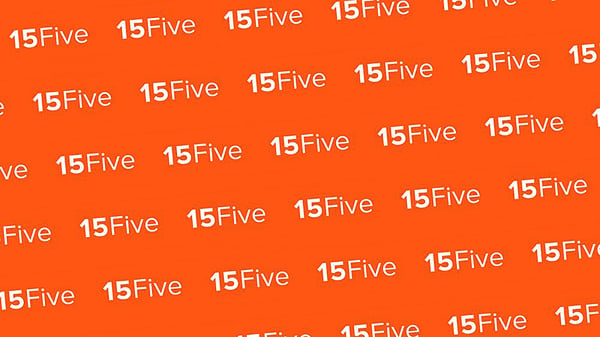 15Five is a continuous feedback platform that is designed to help leaders better support their people. A place to bring your voices, share wins, and ideas, appreciate each other, and collaboratively work through challenges.
What Is It?
Each week as a Container Solutions employee, you'll be asked to fill out your 15Five, which means candidly answering a few questions. Then, your manager will read and give feedback each week. It's a continuous practice that will help form the backbone of one-on-one meetings and personal development.
Through strategic weekly check-Ins, 15Five helps managers gain consistency, clarity, and connection with their teams. This ultimately creates better relationships, and enables team leads to help each individual work in satisfying ways that suit them best. Connected people solve problems as they arise, and they do it together. 15Five simply puts process around creating and keeping this connection.
The 15Five platform combines:
Continuous feedback:
How am I helping? In which ways am I contributing to collective success—or bottlenecks?
Objectives and Key Results (OKR) tracking:
Are we staying on task and progressively iterating toward our goals?
Recognition:
What I am doing is important and makes a difference—my boss tells me so, and so do my co-workers!
Safety
:
The value of 15Five is reality checking, so honesty and openness are absolutely desired.
Consistency:
All of the above, easily accessible in one place.
Essentially, this is a (virtual) way for a manager to stop by your (virtual) desk to see how things are going. Doing 15Fives helps our leaders better support our employees: Without a tool, it is hard to share frustrations, successes, and general ideas as a global team.
With 15Five, we can track our weekly goals and priorities, allowing us to have more fruitful and more productive discussions about our work, our careers, and our growth.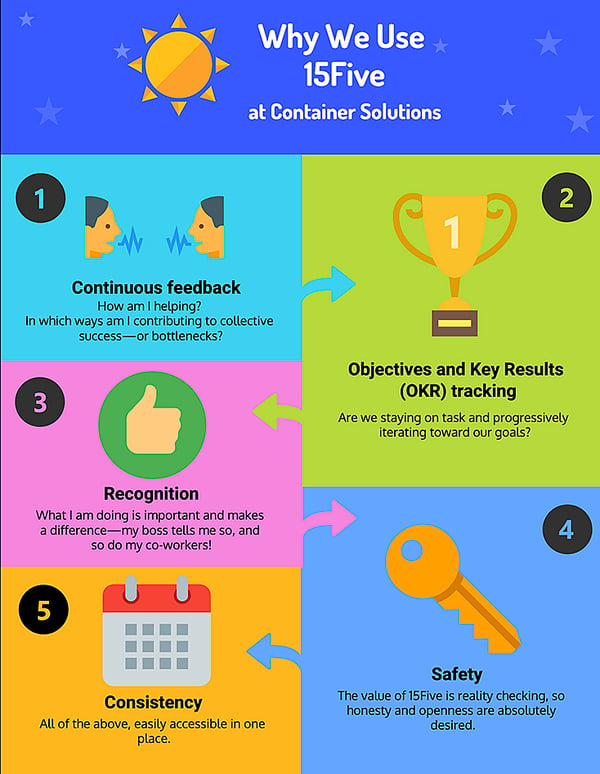 How It Will Work
Here at Container Solutions, we will be sharing our 15Fives every Friday. This translates to 'Please fill out and submit the five easy questions on Thursday afternoon, or no later than 10 a.m. Friday'. It's part of everyone's job.
Once submitted, check-ins are sent to a 'reviewer' —most likely, the team lead — who is first in line to read and respond, if necessary, if there is any way they can help facilitate. They will gather insights from reading the entire team's 15Fives 'week at a glance' responses, identifying important topics and trends.
Next, they will share those insights with other managers (locally and in other branches), thereby building consistency and visibility across the entire organisation.
We also benefit as individuals. Doing this regular check-in allows each of us to share the ups and downs of whatever projects we are currently working on with our team lead and other CS managers. This unobtrusive reporting activates organic calendar/workload management by keeping progress (or lack thereof) transparent, while eliminating time spent in meetings. It's also an easy way to identify—and get out in front of—any minor problems or bottlenecks within a project, quickly and efficiently.
There is more to the 15Fives system, including ways to track objectives (OKRs) and make sure leaders are connecting regularly in one-on-ones. We're working to get to 90% or better on participation with the weekly 'pulse checks' first, and then start to unlock these other ways to smash productivity, collaboration, and communication!