In the last 10 months, Container Solutions has set up an office in Warsaw from scratch. We did this the CS way. Here's what we did, how we did it, and what comes next for our office!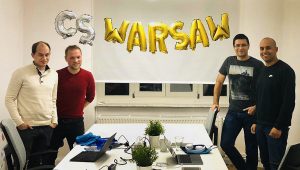 Adam Otto (from left), Piotr Perzyna, and Rafal Malanij
celebrate the opening of Container Solutions' Warsaw office
with CS chief operating officer Fahd Ekadioin, at far right.
Our Story Begins
In Container Solutions we are good at using experimentation to learn and progress. This is the way we solve problems and this is what we teach our customers. It was not much different in the Warsaw office case.
In 2018, I met Pini Reznik, CS' chief technology officer, at a conference. In April, Pini and Jamie Dobson, the company's chief executive officer, and I talked about the opportunities for business in Central Europe. Cloud Native brings a lot of change to organisations, so we will have a lot of work to do. They asked me to expand Container Solutions to Warsaw, where I live. The goal was to speed up the growth of our consulting capabilities, and tap some of the great engineering talent in Poland.
The Polish IT market is full of skilled and open-minded people. However Container Solutions was barely known in this part of Europe. We had to spread the word.
In August, we started recruiting. We placed ads, scoured LInkedIn, established an (admittedly timid) presence in Polish social media, and talked with our personal networks. We received tons of CVs, and conducted dozens of interviews, but finding a match proved tough. The market included many wonderful candidates, but few that had both the DevOps and SysOps skills we needed.
Recruitment at CS is not only about filling jobs, but most of all about helping candidates choose the working environment that will perfectly fit them. We needed to adjust our recruitment process to fit a distributed organisation. Originally, almost all recruitment was done on site at Container Solutions' Amsterdam office. In Warsaw, we had to make sure that, even during online interviews, we properly shared our culture and values with candidates.
Ultimately, three great engineers decided CS Warsaw would be a good place to work. They gave us a bit of a trust and decided to join the office (which was actually run from my kitchen table). We started building a foundation for our team.
Open for Business
On November 5 we reached our first milestone: Our new colleagues joined and we celebrated our first day as a real CS affiliate in a small room at one of Warsaw's co-working spaces; we planned to move into the city's first-ever WeWork a month later. Fahd Ekadioin, our COO, came to visit us to lead some onboarding sessions and officially opened the office.
And now we faced another challenge: How to extend Container Solutions' culture to our new office. CS culture is based on autonomy, learning, safety, and growth with a minimal, decentralised structure, to avoid a concentration of power. Also, we always try to have a lot of fun.
Bringing that culture into a new remote location can be challenging. Thankfully our onboarding process means that all new colleagues are spending some time in our biggest office in Amsterdam. There, they participate in a "cultural deep dive" getting a solid grounding in our value system under the guidance of Jamie, our CEO.
Our colleagues from the Amsterdam office also supported us by coming to see us; they came for the DevOps Days Warsaw conference, to give a couple of interesting talks about Istio and Microservices.
The team in Warsaw bonded with our CS colleagues over something else, too: We spent some time on getting certified. Passing the Certified Kubernetes Administrator exam or similar exam is one of the first things people do after joining CS, and we shared success strategies with each other.
What's Next for the New Team
There are seven people in Warsaw now, and another person is joining very soon. Our WeWork office is filled to bursting, and we're moving into a bigger room. It's a great milestone on our way to shaping our presence on the Cloud Native map in Central Europe.
We are building partnerships with cloud providers and with local companies, preparing for more Cloud Native transformations.
And we're still recruiting, with plans to expand and build a strong team here in Warsaw. You can check our open positions on our Careers page.
You will also find us on Cloud Native Warsaw conference in September, where Pini, our CTO, is going to give a keynote speech—and our CS team will present our ideas as well. We will also be at many events related to DevOps, Cloud Native, and Digital Transformation.
And you can always come over and visit us in our office in Warsaw!
Looking for a new challenge? We're hiring! Check out our exciting openings below: