At Container Solutions HQ—or rather the distributed, mainly WFH entity that passes for Container Solutions HQ—we're busy getting ready for Hacktoberfest. As you're probably already aware, Hacktoberfest is DigitalOcean's month-long celebration of open source, where everyone is encouraged to contribute to open source projects.
As part of all this, we're organising a Software Circus Amsterdam Hacktoberfest event on 5 October and Lian Li is speaking at CONTRIBUTING.md, where she'll explain how to adopt a code of conduct.
A major part of Hacktoberfest is receiving the official T-shirt from Digital Ocean for making four contributions to open source repositories. In previous years, several of our developers have been successful in this, and you can see our Cloud Native engineers Charlotte Mach (left) and Cari Liebenberg rocking their shirts: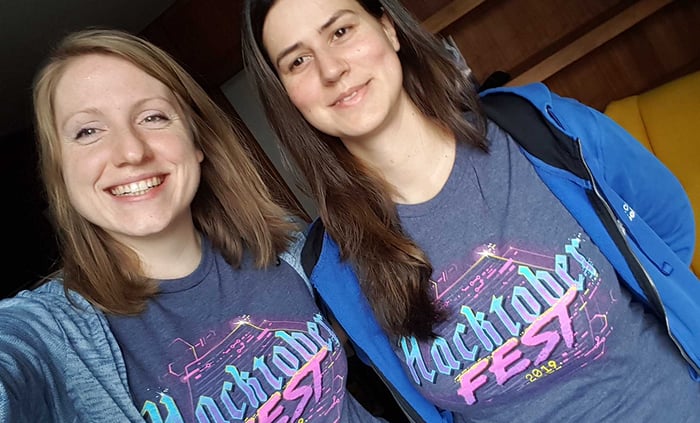 This year, we'd like to get our own open source repos involved as much as possible. And for everyone that submits a successful pull request to one of our repositories, we'll send out a Container Solutions T-shirt (subject to availability). We've got lots of projects at our CS Github repositories, but we wanted to highlight some of them here:
If you'd like to hear more about the projects, there will be a brief overview at the Software Circus Hacktober event.
Most of our projects are designed for Kubernetes and other cloud platforms, so you might want to check out the DigitalOcean $100 Hacktober credit offer— it's perfect for testing out these tools.
Happy Hacktobering!
Photo by Charlotte Mach.